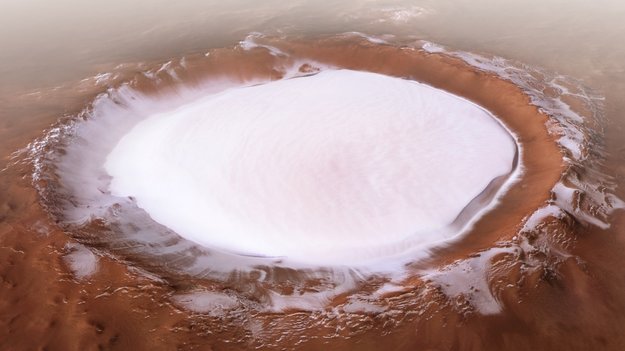 Planetary researchers using data from the Shallow Radar (SHARAD) instrument on NASA's Mars Reconnaissance Orbiter have discovered rich deposits of water ice and sand hundreds of million years old beneath the current ice cap in the north polar region of the Red Planet. Published journal Geophysical Research Letters, the findings are important because the layers of ice are a record of past Martian climate in much the same way that tree rings are a record of past climate on Earth.
Scientists found layers of sand and ice that were as much as 90% water in some places. If melted, the newly-discovered ice would be equivalent to a global layer of water around Mars at least 5 feet (1.5 m) deep, which could be one of the largest water reservoirs on the planet.
The scientists suspect the layers formed when ice accumulated at the poles during past ice ages on Mars. Each time the planet warmed, a remnant of the ice caps became covered by sand, which protected the ice from solar radiation and prevented it from dissipating into the atmosphere.
Until now, scientists thought the ancient ice caps were lost. The new findings show that in fact significant ice sheet remnants have survived under the planet's surface, trapped in alternating bands of ice and sand, like layers on a cake.
The total volume of water locked up in the buried polar deposits is roughly the same as all the water ice known to exist in glaciers and buried ice layers at lower latitudes on Mars, and they are approximately the same age.
The team's findings were corroborated by an independent study using gravity data instead of radar, led by Johns Hopkins University's Dr. Lujendra Ojha and also published in the journal Geophysical Research Letters.